Tip: change this options any time by going to "Firefox > Options > Options". Select the "Applications" tab, and type "mailto" in the text box, and pick an option from the dropdown: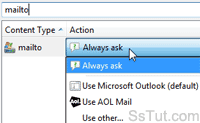 To delete it from the list, choose "Application Details", select "AOL Mail", click "Remove" and then "OK". (The best is to choose another email program and select to "Remember" it.)

Tip # 2: know that if you keep "Always ask" as the default, you can just double-click on the email program you want to use, whenever you clicked on an email link!